Venue & Hospitality
Note:
Hotel staff will only provide general information about the hotel and guest rooms, will not disclose for any specific details about the conference. If you wish to contact the hotel reception, kindly contact
20 days
prior to the conference date. During enquiry please mention the conference name, date along with the organizer name
"Conference series"
.
Conference Dates:
Hotel Services & Amenities
Audio/Visual Equipment Rental.
Business Center.
Business Phone Service.
Complimentary Printing Service.
Express Mail.
Fax.
Meeting Rooms.
Office Rental.
Photo Copying Service.
Secretarial Service.
Telex.
Typewriter.
Video Conference.
Video Messaging.
Video Phone.
ATM.
Baggage Storage.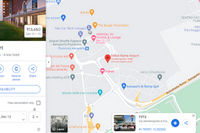 About City
Rome is the capital city of Italy. It is also the capital of the Lazio region, the centre of the Metropolitan City of Rome, and a special comune named Comune di Roma Capitale. With 2,860,009 residents in 1,285 km2 Rome is the country's most populated comune and the third most populous city in the European Union by population within city limits. The Metropolitan City of Rome, with a population of 4,355,725 residents, is the most populous metropolitan city in Italy. Its metropolitan area is the third-most populous within Italy. Rome is located in the central-western portion of the Italian Peninsula, within Lazio (Latium), along the shores of the Tiber.